About
EOA Architects was founded in 1991 by Principal Gary Everton. With current leadership including Sheila Dial Barton, Tracey Ford and Michael Murdock, EOA has become a majority women-owned architectural, interior design and urban planning firm with regional focus. Striving for a better tomorrow today, EOA positively impacts individual lives and shapes communities through the creation of sustainable and award-winning projects in a variety of specialty areas.
EOA is driven by a passion to improve people's lives through architecture by collaborating with our clients and design partners while being inclusive for all people. Our goal is to contribute to making the world a better place through the way we and our projects maximize a positive impact on people's lives and minimize the negative impact on our global environment. We believe architecture should be of its time – providing a visual diary of the day's culture and predicated on a certain amount of tension between invention and memory. We believe architecture gives voice to the spirit of place. Our architecture aims to balance complex building systems and technology with designs that are empathetic to the user experience.
AIA 2030 Pledge
EOA is dedicated to learning and implementing sustainable strategies to all projects and has signed the AIA 2030 Commitment. The Commitment is an actionable climate strategy that gives the design profession a set of standards and goals for reaching net zero emissions in the built environment.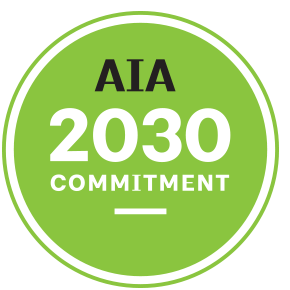 Community Involvement
We are proud of the non-profits we work with both in our studio as well as our commitments outside the office. EOA has a personal connection to our community as well as those entities making our communities better; for individuals, families and those in our city that are the most vulnerable and at-risk. It is for these reasons we donate our services and our personal time to assist each of them toward reaching their goals.
Please click on each of our community partners below to learn more about their programs and services provided.